Visit us at PMPA National Tech Conference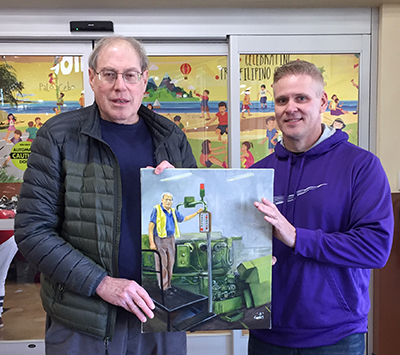 Jim Graff with artist and screw machine operator Todd Gates showing painting of Hydromat. You can find Jim, the painting and a gift for you at Table 53.


Machines Wanted:

Acme-Gridley 3/4"RA8,1�RAN6, 1 1/4"RB8, 1 5/8"RBN8, 2 5/8" RB8
Barrett 1100E Chip Spinners
Bar Loaders Cucchi & Iemca
Citizen L16, L20, L32, M16, M32, C16
Davenport 3/4" 5 spindle 1975+
Durr Washers
Escomatic D6SR, D2, D5, 647CNC
Eurotech 730SLY, 420SLL-Y
Euroturn/Mori-Say 6/32, 8/32
Gildemeister GM20, GM16, GM35, GMC20, GMC35, AS20
Hydromat HW25-12, Pro 20, HB45-12, HB32/45-16,
HS12, HS16, V-8, Inline Machines, Epic Units
Index MS32C, MS40C, MS40, MS22, MS25E, G200, G300, ABC,MS25E
Miyano BNA42MSY, BND51
Mori-Seiki NLX-2500/700
New Britain Models 51,52, 62, 812
Schutte�AF26DNT, AF32SDNT, SG18, AG20, SF26DNT, SF51, SF67
Star SR20RIV, SR32, ST-28, SV12J, SV20J, SV32JII
Tornos Deco 10, 13, 2O,26,EVO Deco
Tornos SAS16, SAS16DC, SAS16.6, BS20,AS14,
Tsugami SS20, SS32, BO126II
Wickman 6/26,1" 6, 1 3/4" 6, 2 1/4 6, 3 1/4 6, 6/44
Willemin 508MT, 408MT

Graff Machine Tools will purchase your surplus machines or sell them on consignment.

Retiring? We sell entire plants and departments.

Need more machines? We will find them for you!

---
Graff Machine Tools, LLC, 2 Avon Road, Northbrook IL, USA 60062-1327
PH 708-217-2476 or 847-609-6311 |
sales@graffmachinetools.com
|
sales@graffmachine.com
www.graffmachinetools.com © Copyright 2018 by Graff Machine Tools, LLC, and its licensors.
All rights reserved.
You are viewing the latest Hot Deals sent out to our email list subscribers.
Be
the first
to view our Hot Deals by signing up for our email list.
To subscribe, either call us at 708-217-2476,
or
click here to subscribe
.
You can unsubscribe at any time. Your request will be honored promptly.
We respect your privacy.
Your e-mail address will never be provided to third parties or used without your express consent.

Please contact us if you have any questions about our listings or
Graff Machine Tools. You'll receive prompt, friendly and professional attention.